About the Nursery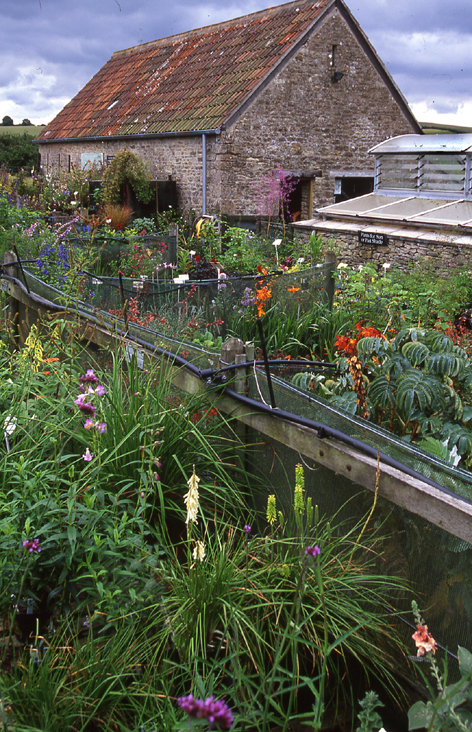 For forty years I have been avidly and unashamedly plantaholic. About twenty-five years ago I started the Nursery as a way of justifying all the plants I just had to buy. Against everyone's advice, I began by specializing in tender perennials – plants which need frost protection in winter. Irritating because you must remember to take cuttings and bring them inside, delightful because they are some of the longest blooming and most beautiful of all plants.
Of course, I also grow many hardy plants as well, usually those which are difficult to find elsewhere. I only grow plants I love at the moment, so the list is always changing. Recently both grasses and biennials have taken more and more prominence. I did a black and white exhibit at Chelsea, came home and made a black and white border in the garden and as a result have a minor avalanche of very dark and very pale foliage plants. In 1999 we started selling seeds as well as plants.
Sue Elcock, nursery manager, keeps us afloat when I think we will drown in plants. Her unflappable efficiency and warm humour, keep all the parttime helpers happy and busy, allowing me to go off collecting more plants with a clear conscience. In 1993 I won a Winston Churchill Travelling Fellowship to spend three months plant hunting in South Africa, and I have been back since collecting seeds. Trips to India, Nepal, Chile, Turkey and Bulgaria have resulted in many new plants.
The nursery is organized according to the needs of the plants – 'Plants for Damp Shade', ' Plants for Dry Sun', 'Tender Plants' etc. Come and visit and see if you don't think we are well named – Special Plants!
MAIL ORDER We do mail order of plants between September and March only. There is a £10 minimum plant order and a £15 delivery charge to mainland UK. Seeds can ordered all year round and can be sent to most countries.
View our catalogue of plants at the nursery
Visit the shop to buy seeds online