Visit Us
Nursery Open Daily
Opening Hours The nursery is open 10am - 5pm daily, March through October. Please ring if you want to come in the winter.
Directions
Special Plants is about 100 miles due west of London, seven miles north of Bath and four miles south of Junction 18 on the M4. Greenways Lane turns west off of the A46 100 yards south of the A420 roundabout. We are not in Cold Ashton village. It is about a mile down a very narrow winding lane. Please drive with care. There is plenty of room to park and turn around when you arrive.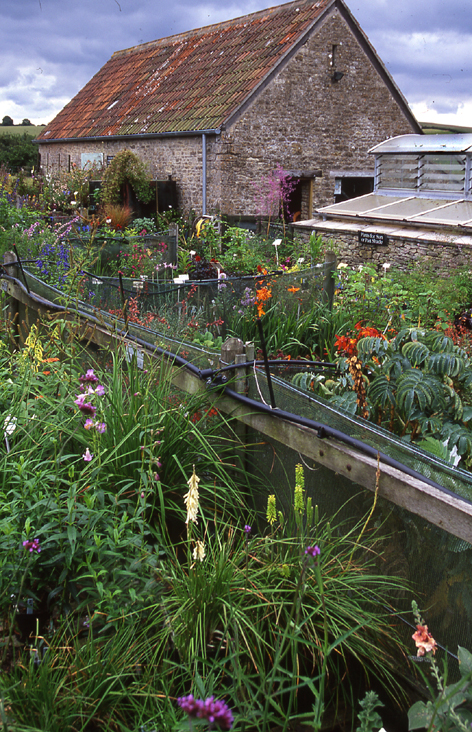 Garden Open Days
Our garden will be open every Tuesday from mid-April through October 2020.
And every Wednesday in July and August 2020.
And for the NGS on the third Thursdays of the month: 18 June, 16 July, 20 August, 18 September and 15 October 2020.
All from 11am - 5pm. Homemade teas on garden open days.
Group visits of 6 or more welcome on other days by arrangement.
Special Tuesdays
Garden open days with a short practical talk on what's happening in the garden week by week. You can watch the garden changing through the year or just come once for a subject you are interested in. Follow Derry walking round the garden as she talks about the plants she loves, about how she copes with specific problems, and what jobs she is doing at each time of year. Be inspired to go home and make the most of your garden.
Talks are at 11am. No need to book unless group of 6 or more. Free talk included with garden entrance - £5 (or £25 for a season ticket).
14 April Spring Pruning
21 April Staking Perennials
28 April Tulip Mania
5 May Sowing a Cutting Patch
12 May Planting Up My Pots
19 May The Chelsea Chop
26 May Self-Sowing Plants
2 June Umbels
9 June Poppies
16 June Biennials
23 June Midsummer Madness
30 June Plants for Bees
7 July Plants for Dry Shade
14 July Slash and Burn
21 July Don't be Afraid of Orange
28 July Salvia Extravaganza
4 Aug Taking Cuttings
11 Aug Gravel Gardening
18 Aug Daisy Day
25 Aug Late Summer Colour
1 Sept Grasses
8 Sept Collect Your Own Seed
15 Sept Prairie Perennials
22 Sept Ferns and Friends
29 Sept Autumn Sowing
6 Oct Planting Up Winter Pots
13 Oct Use Your Greenhouse
20 Oct Grand Autumn Plant Sale